A very warm welcom to the
Appartementhaus Battisti
Relax and enjoy your holidays in the centre of St. Anton am Arlberg: Fully renovated in 2014 our apartments are a modern and contemporary "home away from home". If you love snuggling up as the snow falls or bundling up and hitting the slopes in the winter, our apartments are located in winter wonderlands. We also offer a ski shop.
Apartments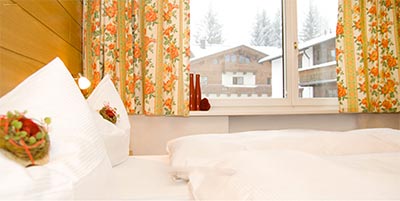 Comfortable and cozy apartments, wireless LAN available. A parking spot is provided for. More Information ›
Directions to Property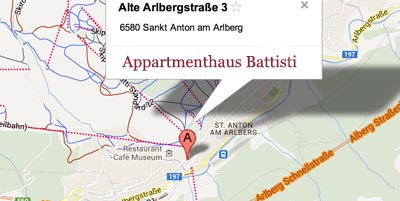 The apartments are in the heart of St. Anton am Arlberg. Situated close to the Rendlbahn cable car and the Galzig cable car, the Appartementhaus Battisti is the perfect location for enjoying a skiing holiday at the Arlberg
more Information ››
‹‹ close
Stay comfortably in St. Anton am Arlberg in an affordable accomodation.
The Appartementhaus Battisti is placed in the heart of St. Anton am Arlberg – your rooms for a relaxing and cosy holiday in one of Austria's most famous skiing regions
Take a moment to change down a gear and slip into a fantastic skiing holiday:
Enjoy a modern and contemporary, customer friendly professionally run "home away from home" in Tyrol. Convenient to Rendlbahn and Galzig cable cars.
You May Choose from Three Apartments
We can offer 2 apartments (no. 01 and no. 02, 43 sqm each) for 2 – 4 persons with a separated area for the bedroom and 1 apartment renovated 2014 with great love and attention to details (no. 03, 30 sqm) for 2 persons.
Room amenities
Fully equipped kitchen with dishwasher, microwave and refrigerator, en-suite bathroom with shower / WC and complimentary toiletries
All rooms are non-smoking. Smoking outside is OK.
Enjoy a fantastic view over the slopes and the mountains of the Arlberg region.
Top Location: The best place to be in St. Anton am Arlberg when skiing.
Although centrally located (2 minutes' walk from the pedestrian zone with a lot of local shops, restaurants and entertainment) the Appartementhaus Battisti is your opportunity to slip away from everyday life and enjoy your holidays. Experience our friendly hospitality whilst enjoying the beautiful surroundings of St. Anton.
The perfect location for a winter wonderland getaway in Tyrol.
Skiing outfitters and service: Ski West
On the ground floor of the Appartementhaus Battisti you will find the sports outfitters Ski West.